The YMS 2015 (Youth Marketing Strategy) recently hosted its conference in London and released a compelling report. Organized by youth research firm, Voxburner, the report themed Youth Trends 2015, gave essential insights for educators marketing to their most valuable audience: millennials.
The report follows a recent online survey that Voxburner conducted to 1,156 English 16-24 year olds between December 2014 – February 2105 followed up with interviews with some of the respondents. While the survey was specific to British youths, the findings nonetheless shed interesting light on this very connected and younger, tech-savvy demographic in both developed and emerging economies.
Judging from the presentations at YMS 2015 by some 30 speakers from today's largest brands like Facebook, Airbnb, Twitter and Spotify, the commentaries and shared opinions proport the report's findings of the experience of these global brands and organisations.
Specifically for educators, the most interesting and pertinent insights from Youth Trends 2015 are:
Millennials are a more serious lot that you think when it comes to their career choice and making a positive and meaningful contribution on the world than all other generations. They view both travel and work coming as coming together to bring them a successful life.
Millennials seek guidance to reach their goals – from mentors, YouTube or other resources.
They are extremely discerning with brands, believing brands must be ethical and do good things in the world to deserve their time and loyalty.
They see themselves as busy people – very busy in fact – with their lives sped up further by multiple content channels within a space of hours or even minutes. Brands have very little time to make their brand matter to them.
Eager, inspired and hopeful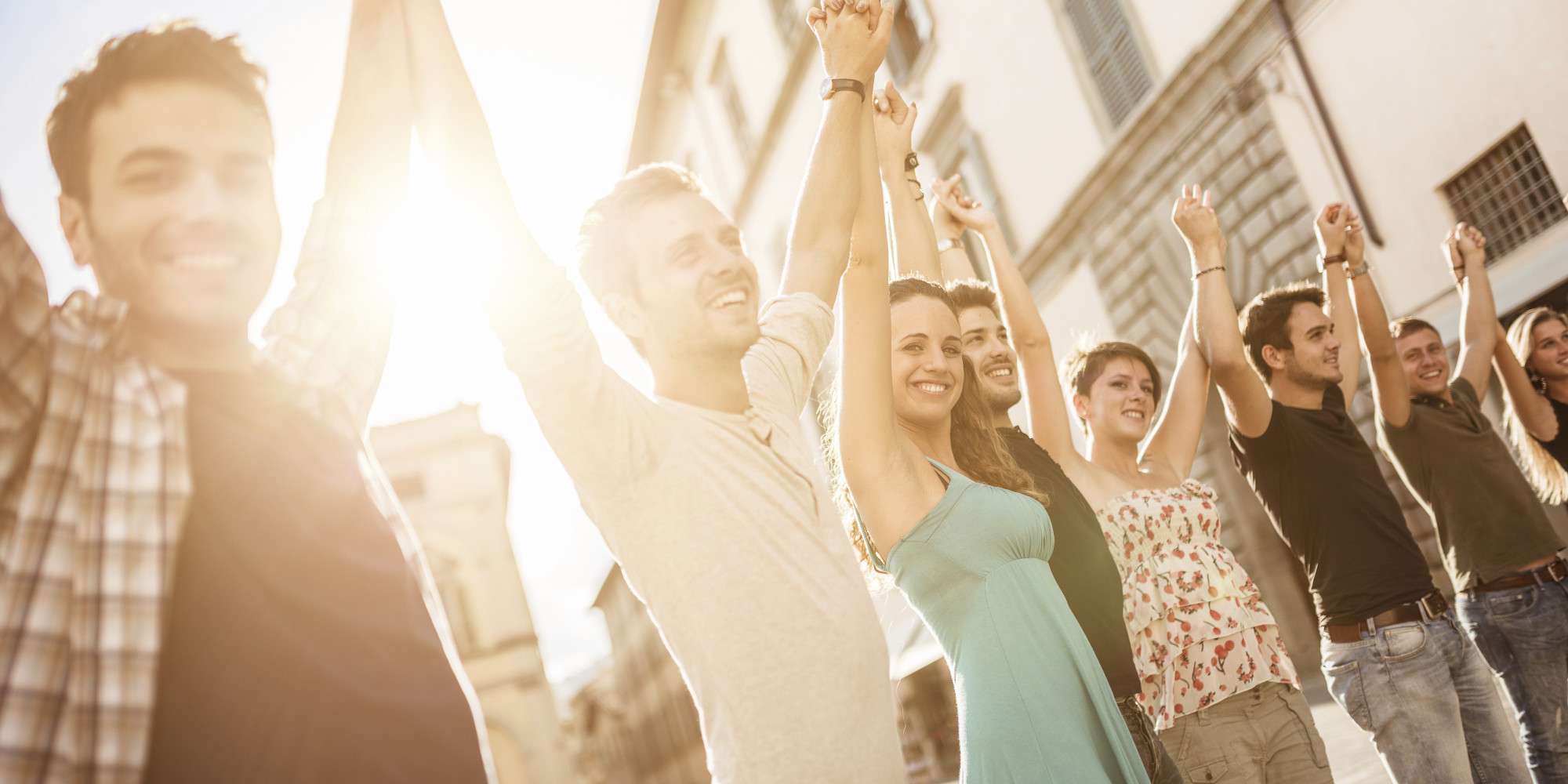 (Source: http://i.huffpost.com)
While we've read about or even experienced the differences between millennials (born between early 1980s & early 2000s) compared to other generations (Boomers & Gen Xers), the Youth Trends 2015 noticed that millennials are looking forward even as they live in the present. They plan their next steps carefully considering who they want to be, from what brands to engage with to which college to attend. On the flip side, boomers and Gen Xers spent less time worrying about their place in the world and their actions and were focused more in the present.
So, what insights did the study show that's important to youths? Well, it's no surprise that financial stability took top spot (83%) given the poor global economic outlook over recent years. Interestingly, "doing well in college/ university" took a close second (80%) followed by working hard (73%). The study also asked youths about their "bucket list" (best described as activities they want to do very much that they haven't experienced enough) and the results were startling, to say the least – giving to charity outranked wanting to "party more". This is highly insightful and notable considering the age of the respondents and give takeaways as to how brands should start thinking to engage youths better.
Voxburner continued by describing millennials as a "selfless" consumer group and cited skate and streetwear brand, Vans, as a great example of reaching out to youths:
"[Vans offered] US students US$50,000 to design an inspired version of their iconic shoe styles. This healthy prize amount won't go directly to them however; it will be donated to improve their high school's art department, which [taps into] what these caring do-gooders would have wanted."
Head of Insight at communications agency, Amplify, Bexy Cameron further commented that,
"[Millennials] are discriminating between brands by looking for ethical behavior and sustainability [by] seeking brands and companies with clear values. [This] means brands are focusing their efforts on using innovation and social initiatives with genuine merit to tell their stories, and allowing social media to do the rest. This provides real, authentic stories for brands and a way for consumers to connect emotionally, involve fans and influencers in their campaigns."
Educators would be interested to know that for international students, the number 1 priority in their bucket list was to "travel more" (88%). On top of that 6 of 10 millennials also put "learning a new language" on their bucket list. These insights potentially impacts the way institutions market to international students and may mean educators can spend some time including travel information or foreign languages on their marketing channels.
Supporting the fact that millennials are looking ahead and want to be financially stable, the study showed that almost half (48%) are saving money and more than eight in ten (83%) are studying in order to achieve a good career. A 20-year old student quoted,
"I put things that I consider more important at the top of my priority list, so things like finding work experience placements and doing my work as a member of student media will always come first as it is directly linked to my career objectives. University comes second and my social life last. I spend more time on things that are at the top of my priority list rather than the bottom."
Seeking advice & guidance
(Source: http://www.iamagazine.com)
Millennials are used to asking – by tapping out a questions on their laptops or phone and receiving many answers – and they are used to getting informed advice, fast.
The survey showed that more than half (53%) of the millennials want more guidance when it comes to money, and tw0-thirds (65%) wanted career advice, further boosting the fact of their interest in financial stability and career building. This brings to light the relevance of new channels like LinkedIn's University pages, the brand's latest foray into the field of education – where students can research and talk with alumnis to gauge how successful they will be in a college or program. The survey results also offers some key takeaways that educators should seriously consider:
Having career guidance services to improve satisfaction to existing students
Foster strong relationships with companies/ brands so students can ask questions from experts in their field of study
Have a strong alumni program to better connect with potential students and parents
Create success metrics (i.e employability, etc) across multiple channels to build trust and confidence that students will get a strong ROI with your institution
Regarding millennial's quest for guidance, the report stated:
"A brand's support will speak a thousand words as the vulnerable youth consumer can momentarily gain comfort from a brand's offering. We're not saying that brands should take on a role of a parent, but acknowledging that you understand their woes and lows in life will put you on their radar."
There are so many ways brands today can demonstrate empathy to create an emotional connection with students, from providing how-to videos (how to prepare for study abroad, what to expect, etc), to picture and having a thriving social community to offer proof of how happy and successful students are with their choice of study. In particular, video testimonials are worth a serious look at more than seven in ten (71%) respondents said video as being their favourite content, a number certainly too high to ignore if you're serious about wanting to reach and engage millennials.
Multiple channels & time-sensitive
(Source: http://blog.datanyze.com)
Today's millennials are a busy lot and have no time for brands that don't acknowledge and respect how busy they are or don't prove their use immediately. The report states, "[today's] youths expect digital concepts to give them something in return for their time [and] it should not be for tech's sake."
The report further reaffirms at the YMS 2015 the growing importance and influence of mobile. A study conducted last year by Voxburner showed that almost half of Internet consumers around the world use mobile devices as the primary device to "surf the Web" and "stay connected." Additionally, youths just want content served to them, they want to be able to engage and respond to it, in most cases, immediately. The report found that,
"[More than] half (54%) of [the] respondents want to be able to interact with content, while social media-wise 21% engage with branded content every few weeks. They enjoy connecting with peers via social media and 84% has posted videos, photos and comments to Facebook, 58% to Snapchat, 57% to Instagram and 46% to Twitter, all within a month, and these numbers are expected grow even higher."
The report puts it very succinctly that content today needs to be collective, engaging, witty and friendly, requiring as little effort as possible to consume and interact with.
Unique yet inspiring demographic
(Source: http://www.iamagazine.com)
In summary, institutional marketers face a big challenge to reach, engage and be relevant to millennials. Educators need be savvy and privy to the ambition, outlook and desire of millennials to make a difference while taking into consideration their very busy lifestyles, discerning choices and appreciation for bite-sized, valuable and visual content.
Head of Vertical Partnerships for Facebook UK, Derren Sequeira who presented at YMS 2015 brought up a fantastic example of engaging with millennials correctly – the very successful and viral "Ice Bucket Challenge" initiative (done to raise money to fight ALS disease). The campaign tapped on to the millennial's need to make a positive impact in the world, share their experience and be part of a collective movement, and have great fun while doing it. The fact that the preferred medium in this case leveraged off the largest social platform via video made it all the better.
All in all, marketers today must find new, exciting and possibly untested and untried ways to relate to millennials in an already extremely busy terrain. It would require brands to "dare to be different" and to really think about its brand, story, and more importantly core values that it would then have to creatively communicate to this audience. Millennials are a smart bunch that won't be suckered into all the sales & marketing lingo and benefits, if a brand's' values do not align with their own view of the world and on what's good. Educators simply must evolve from its predominantly traditional marketing approach (events, printed materials, etc) and start adopting a more balanced approach to connect with millennials where it matters, online.